We are a rapidly growing disc golf club located in Huntsville, Ontario, Canada.
We strongly encourage all regular players of the Evergreen Fields course in Huntsville to join the club to help promote disc golf in Muskoka and also to support the club's efforts to improve the course and develop activates at the course.
Winter putting league
2022/2023 winter putting league is on Wednesday evenings from 7 pm to 8 pm at Spruce Glen from Dec 7, 2022 to Mar 29, 2023. It is $5 per night and we should have two baskets this season.
League nights
2022 League is over for the year – thanks to everyone who came out!
The league started on June 1 and was every Wednesday at 6pm. It is $5 + $2 optional ace pot (club members can claim 100% of the pot, everyone else gets half). There are normally CTP prizes as well. We do have tags, which you can get if you become a member (click on Join the club above).
Women's league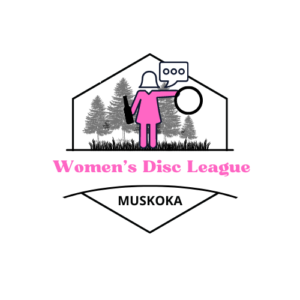 2022 League is over for the year – thanks to everyone who came out!
Come out to our Women's League nights! We are relatively small group of ladies of ALL skill levels, from brand-new to the sport to experienced players who are always willing to give helpful tips. Come for a night or join our weekly league. We just want to have a great time while growing the sport locally to include more women. 2022 season league nights TBD. Reach out on our Facebook group "Women's Disc League – Muskoka" for more info. Hope to see you out there!
Sponsors
A huge thank you to our new course sponsors! Thanks for helping us update the signage on the Evergreen Fields Disc Golf course in Huntsville – it is so long overdue.